US Investment Award: Dow Aksa
Impact Investment Award: PepsiCo 
Regional Hub Award: Ford Otosan 
Climate Action Award: Coca-Cola 
Sustainable Development Award: Honeywell & Tüpraş 
Diversity & Inclusion Award: Procter & Gamble  
Innovation Award: Borusan Cat 
Contribution to Education Award: Mondelez International 
Turkish Champ Award: Coca-Cola İçecek 
Start-up Award: RS Research 
E-export Award: RubiBrands  
Honorary Award: Tuncay Özilhan, Chair, Anadolu Group 
-------------------------------------------------------------------------------------
PLEASE CLICK TO VIEW AMCHAM AWARDS PROJECTS FOLDER: LINK
I AmChamPion Awards Ceremony was Broadcasted LIVE on Bloomberg HT website & Business HT social media channels on December 12, 2022.  
Watch BloombergHT & BusinessHT Broadcast: LINK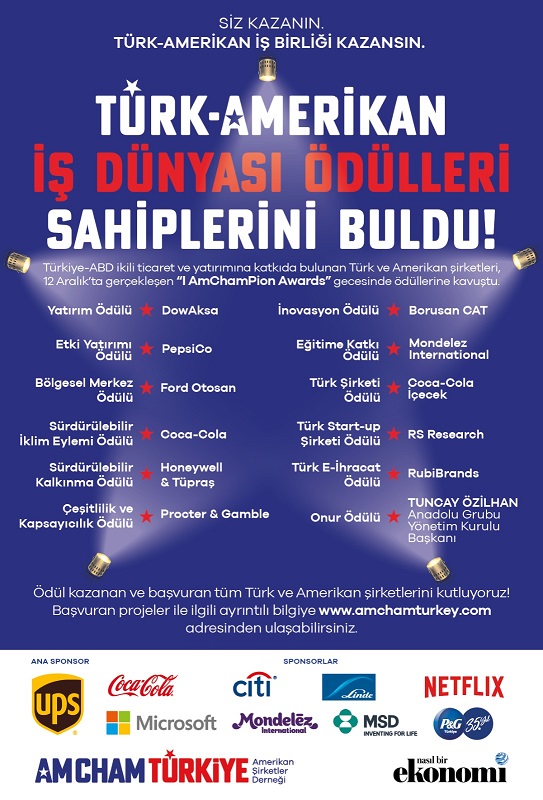 ---------------------------------------------------------------------------------------------------------------
APPLICATION ANNOUNCEMENT
AmCham Turkey is pleased to announce the launch of I AmChamPion Awards 2022!
The Awards Program was initiated in 2019 to highlight and encourage companies that sustain bilateral economic development between Turkey and the U.S.
In the 4th year of the Awards Program, some of the best examples of Turkey-U.S. economic cooperation will be awarded in 9 categories!       
Please find APPLICATION GUIDELINE & EVALUATION CRITERIA for each category at the bottom of the page in pdf. 
Please submit your applications online via the below links designed for each category.
DEADLINE FOR APPLICATIONS: October 19, 2022
CATEGORIES OPEN FOR US COMPANIES
1- INVESTMENT AWARD
Investment Award-1: U.S INVESTMENT IN TURKEY
Investment Award-2: IMPACT INVESTMENT
2- REGIONAL HUB AWARD
3- SUSTAINABILITY AWARD
Sustainability Award-1: CLIMATE ACTION
Sustainability Award-2: SUSTAİNABLE DEVELOPMENT
4- DIVERSITY & INCLUSION AWARD
5- INNOVATION AWARD
6- CONTRIBUTION TO EDUCATION AWARD
CATEGORIES OPEN FOR TURKISH COMPANIES
7- TURKISH CHAMP OF THE YEAR
(Turkish investors in the U.S. / Turkish company partnering with a U.S. Company / Turkish company having U.S. Private Equity)
8- TURKISH ENTREPRENEUR OF THE YEAR
(Start-ups and Entrepreneurs)
9- TURKISH E-EXPORT COMPANY
PLEASE CLICK THE BELOW PDF TO VIEW "APPLICATION GUIDELINE & EVALUATION CRITERIA"
ISSUU
PDF