AmCham Awards Program was launched to celebrate, highlight and encourage those companies and business people who have inspired others with their success, vision and leadership.
The main goal of the program is to highlight businesses and individuals that sustain bilateral economic development between Turkey and the U.S. through their contribution to bilateral trade, leadership and management activities.
The first year of the awards program has been celebrated at AmCham Turkey's 15th Anniversary Gala on Nov 19th, 2019, awarding some of the best examples of Turkey-US economic cooperation and investment!
U.S. Company with the Biggest Investment Decision in 2018: PepsiCo
U.S. Company which Contributed Most to Job Creation in Turkey: Ford Otosan
U.S. Company that Manages the Highest Number of Countries from Turkey: Verifone
U.S. Company that Contributes Most to "Export from Turkey": Ford Otosan
Turkish Company that Contributes Most to "Export from Turkey" in partnership with a U.S. Company: Yeşim Tekstil
U.S. Company's Most Contributing Project to Turkey: Cisco Innovation Center
Honorary Award: The Person that Contributes Most to Turkey - U.S. Business Dialogue: İhsan Necipoğlu, Dow, President of Turkey & Central Asia
Thanks to the valuable Jury Members of AmCham Awards, the first year of the program has been accomplished with great success. 
Presidency Investment Office Representatives
Ali Kibar, Chairman, Kibar Holding
Gila Benmayor, Columnist, Hürriyet
Prof. Dr. Ersel Aydınlı, Executive Director, Fulbright
Rauf Ateş, Publisher, Capital & Economist
Şelale Kadak, Columnist, Sabah
Tuncay Özilhan, Chairman, Anadolu Group
William Cjazkowski, Commercial Consular, U.S. Embassy.
(Please note that winners are selected among applications and nominations.)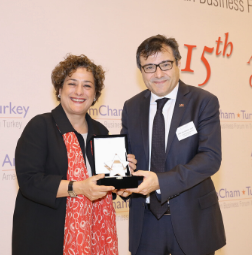 ISSUU
PDF